SENDO Smart 2
Wrist blood pressure monitor
Super compact - fits even in a handbag
Reports heartbeat irregularities (arrhythmia)
5-year warranty
Batteries and storage box included
SENDO SMART 2 – Clinical Accuracy in Compact Dimensions

SENDO SMART digital wrist blood pressure monitor is small and compact. You can use it to take a measurement wherever you are. To get your blood pressure values it is enough just to press a single button. The device detects arrhythmia, and in the presence of an arrhythmic pulse, a small symbol appears on the display to alert you. SENDO SMART 2 is approved by the ESH (European Society of Hypertension).
Wrist Measuring

SENDO SMART 2 is comfortable to use not only because of its size, but also because of the measurement that takes place on the wrist. It features a Smart Protect technology, designed to protect the fine blood vessels in this part of the arm.*
*Blood vessels change over the years. This change may lead to inaccuracies in wrist blood pressure measurement for people over 45. For this age group, it is recommended that the measurement be taken on the biceps.
Always at Hand

Thanks to its size and comfortable storage box, SENDO SMART 2 is preferred by people with a dynamic lifestyle. The device fits even in a handbag and is suitable if you often need to measure your blood pressure or travel a lot. SENDO SMART 2 is battery operated and has a 5-year warranty.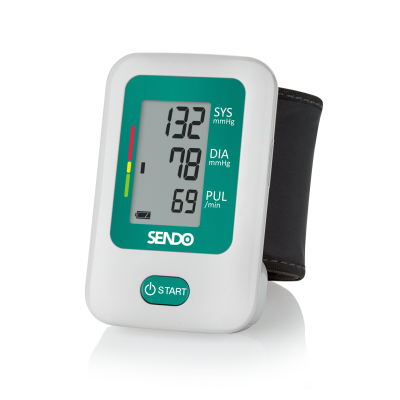 SENDO Smart 2